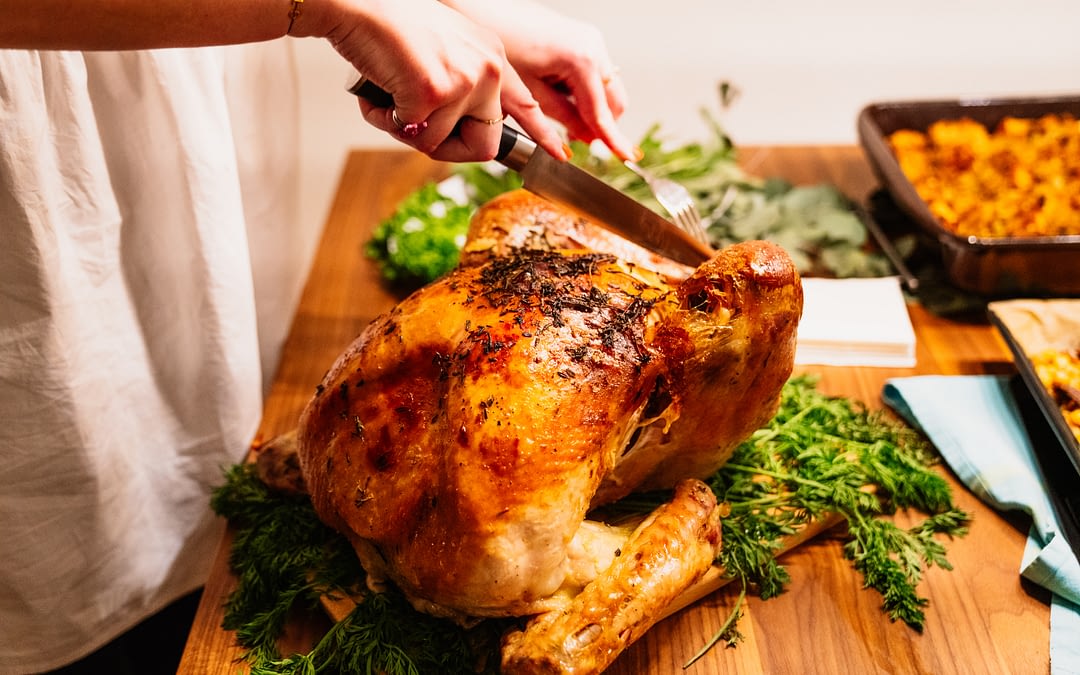 Try these 8 tips to help you stay positive this Thanksgiving break:
1. Embrace and celebrate this unique holiday. Now is the time for positivity and hope more than ever, so accepting and appreciating what you have is a great way to do this. Yes, it's frustrating that this year must be different, and you'll make the most of it by, well, making the most of it.
Thanksgiving 2020 gives us the perfect opportunity to update family traditions and reconnect in a deep way with the members of your household. One way you might do this is to handwrite short letters to the people in your home telling them what you are grateful for and what you love about them. You can read them aloud during dinner or dessert, or simply share them the morning of. Convey what's in your heart, or often goes unsaid, and be grateful for all that you have!
2. Revive or begin new traditions. How about a new dessert or special holiday cocktail unique to the season: like Harvest Punch or an Apple Cider Old Fashioned! Here's a great list from Delish to get you started!
Another idea is to hold your very own balloon parade! Sure, it's fun to watch the Macy's parade on TV, but imagine how much fun you can have if each family member decorated a balloon of their own and everyone pitched in to create your own festive parade route in the house!
3. Keep your balance. It's easy to overindulge on Thanksgiving and it's ok to do so once in a while (hello stretch pants)! To keep your spirits high and maintain your balance after the aforementioned cocktails or quadruple helpings of stuffing, be sure to get moving with the family. Bike rides, hikes, touch football, backyard obstacle courses or family yoga, etc..are some easy ways to enjoy the outdoors and offset this food-centric holiday.
4. Avoid extra screen time: We are big advocates for connecting with family through your favorite video portal, and it doesn't feel like Thanksgiving for most of us without football, the Philadelphia dog show, or the Macy's parade on TV. That should be plenty of screen time, so why not encourage the family to set aside their personal screens for a day or two to ensure you can actually reconnect.
Consider extra blocks of time during your holiday break, or an entire day (Saturday perhaps) where everyone locks their screens away to give you the time and space to focus on each other.
If you'd like to include remote friends and family for game-night through video, here are 6 games that you can play virtually with friends!
5.Plan now for Christmas & New Years – As we discussed, this year IS different and therefore Christmas will be as well. Don't worry about perfecting Thanksgiving with too many new ideas or adjustments for the family – simply write down what worked, what you would do differently, and how you might more easily adjust for Christmas or any other special occasion. Remember, Stock the House can help with almost anything you can imagine, so add us to your team!
6. Reset the family for the COVID winter. Use your time off as an opportunity to get the family on the same page. It's easy to get lost in the weekly news or zoom meetings and COVID fatigue is real for many of us.
This holiday break is a great time to realign family goals, routines, pastimes, protocols…etc…And really check in with one another or a distant loved one to see how they are preparing to stay healthy and positive this winter.
7. Upcycle and Shop Local: Clean out the closets for clothing swaps or future donations that you can pass along to those less fortunate. Coat drives and clothing donations may be limited this year, so check with your local church, Salvation Army, or Goodwill. Many of our community members are in need of warm clothes this season, so this small effort will be greatly appreciated. As a bonus, clean and organized closets will put you in a calmer state of mind by helping you control your environment and revealing those missing items you will love to use again!
It takes a bit more effort, but if you make a commitment to Shop Local and encourage your friends to do so, it will make a huge difference in your community. If your default is to shop online, you can still do so by compiling items into shopping carts to make your list, then call and reserve these items for pickup at a local retailer. Even if that retailer is a national store (let's use Best Buy as an example), purchasing through the local store supports locals who work there, if not a local owner. Common items like holiday decorations, kid's toys, and home goods should be easy to source in your area. And if you prefer delivery, call us, we can help by picking up and delivering all the items for you!

8. Find ways to volunteer your time remotely. Giving back always helps put things in perspective and is a great way to teach your kids gratitude for what they have. Spend some time as a family researching and discussing charities or organizations that align with causes important to you.
Spend time as a family learning more about these groups over the Thanksgiving holiday. As my grandmother always used to say, "Dear, you may always see someone who has more than you. But, for every one of those people, trust me, there are a hundred who have a lot less."
Use this year as an opportunity to get creative and see what you can do to shake up your holiday traditions. With fewer guests, this could be the year to get rid of the stress and enjoy a break. Remember to follow these tips as well as the CDC guidelines to ensure that your Thanksgiving dinner is safe and enjoyable!
Stock the House is beyond thankful for all of the amazing partners, vendors, and clients who continue to support our efforts. We believe that our vision to promote the value of buying local and elevating the local business community is so critical, now more than ever.
On behalf of all of our team members, I wish you and your family the absolute best Thanksgiving holiday!
Be safe and be well.
Domenica Mastroianni
Co-Founder & CEO
Planning a Trip to Vermont This Winter?
Stock the House® helps discerning travelers make any trip safe, enjoyable, and relaxing by handling all of the planning, set-up, deliveries, to-do's, chores, and errands.
From grocery shopping to event planning and production (and so much more), we do it all so you can simply arrive and relax.